Audacious, the fourth attack submarine in the Astute class, was officially named on Friday during a ceremony at BAE Systems' submarine site in Barrow-in-Furness, Cumbria, UK.

Audacious has been preceded by HMS Astute, Ambush and Artful, and the ceremony comes almost a year to the day since Artful was officially handed over.

Rear Admiral Mike Wareham, Director Submarines Acquisition at DE&S, the U.K. Ministry Of Defence's procurement organization, said, "The Astute Class provides the Royal Navy with the most technologically advanced submarines in the world, offering much greater firepower, better communications and more advanced stealth technology than their predecessors."

Featuring the latest nuclear-powered technology, the Astute class can circumnavigate the world submerged, manufacturing the crew's oxygen from seawater as they go.

The submarines also have the ability to operate covertly and remain undetected in almost all circumstances despite being 50 percent bigger than the Royal Navy's current Trafalgar Class submarines, which is being replaced by the Astute Class.

The naming ceremony of the 7,400 ton, 97-metre (318-foot) long submarine took place in front of thousands of people. Guests watched as Lady Jones, Audacious' sponsor and wife of Admiral Sir Phillip Jones, the First Sea Lord and Chief of Naval Staff, named the submarine. In keeping with tradition, she then smashed a bottle of locally brewed beer against her hull.

Audacious will stay inside the company's main construction facility – the Devonshire Dock Hall – before being launched next year.

BAE Systems is the prime contractor responsible for the design, build, test and commissioning of the seven Astute class nuclear-powered attack submarines. It is also the industrial lead for the Dreadnought program, the Royal Navy's next generation of submarines that will carry the continuous at-sea nuclear deterrent.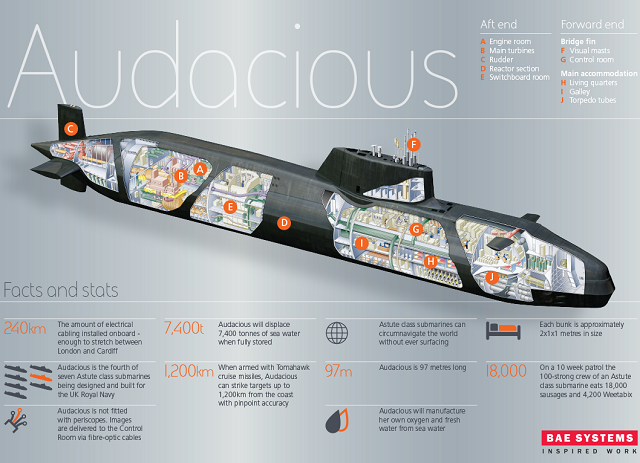 By MarEx