On Monday afternoon, the newly christened rescue vessel Anneliese Kramer provided a tow to the newly christened Sea Shepherd patrol boat Emanuel Bronner. Both vessels were commissioned early this month, and it was the Kramer's very first rescue mission.

According to private SAR organization Deutsche Gesellschaft zur Rettung Schiffbrüchiger (DGzRS), the Bronner suffered an engine casualty near the mouth of the Elbe and anchored up in the estuary to wait for assistance. The Kramer got underway from Cuxhaven to respond, and when she arrived on scene she deployed her stern-launched rescue boat, the Mathias, to take the Bronner in tow. The rescue vessels brought the Bronner safely into Cuxhaven without further incident.

The Kramer entered service at the busy Cuxhaven rescue station on Saturday, replacing the 32-year-old rescue vessel Hermann Helms. DGzRS says that the response team at Cuxhaven receives about 80-100 calls every year, putting it high in the ranks for German maritime SAR units.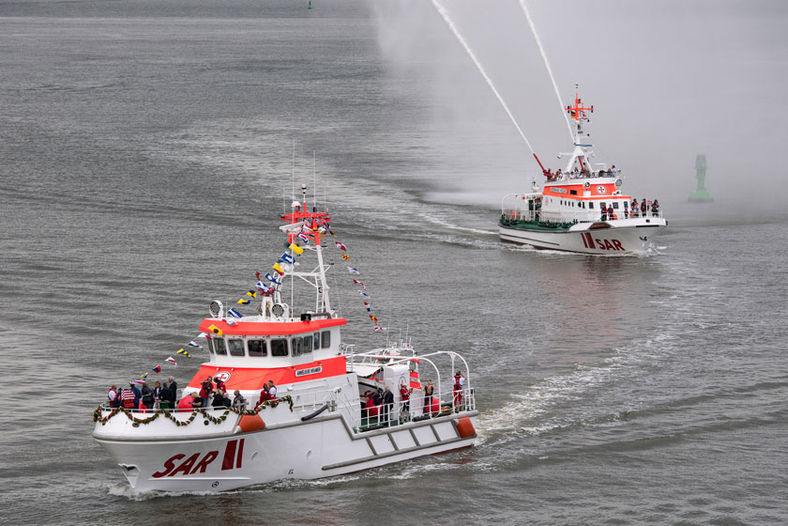 The Kramer at her christening, June 10 (DGzRS)
The Emanuel Bronner bears the name of the founder of the Dr. Bronner's brand of castile soap. The California-based company's German division donated the vessel to Sea Shepherd Germany, which will use her to monitor and protect endangered populations of harbor porpoise in the Baltic. She was christened June 1 in a ceremony in Bremen. "Sea Shepherd Germany is thrilled to have the support of Dr. Bronner's and to be able to partner with a company that has a deep understanding of the consequences of human actions on the planet," said Anne Kämmerling, director of Sea Shepherd Germany, in announcing the vessel's christening. The Bronner will patrol the waters of the Baltic in the summer and early fall to find and report illegal net fishing operations, which often result in porpoise by-catch.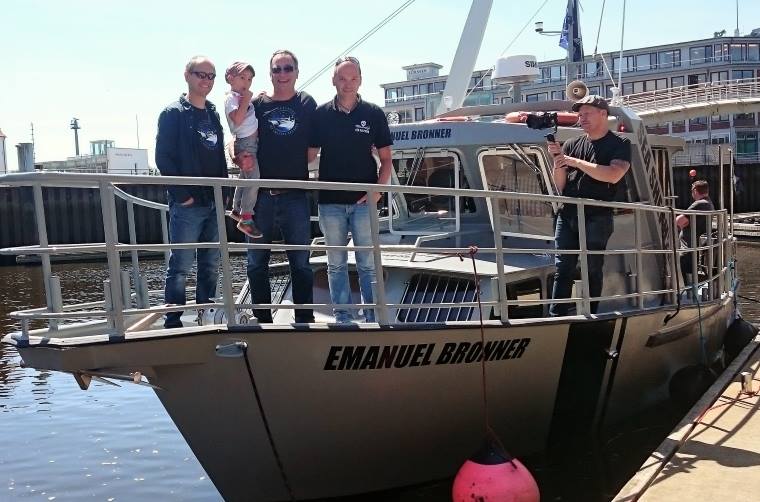 The Emanuel Bronner at her christening, June 1 (Sea Shepherd Chile / Twitter)
By MarEx