U.S. President Donald Trump has announced that his contested budget will see a $21 billion increase in defense spending ending what he says were "years of painful cuts.""Not only did we achieve this massive and badly needed increase in defense, but we did so without having to put in place an equal increase in non-defense spending, breaking the so-called parity rule that was breaking our budget and degrading our military," said Trump on Tuesday.

"We're going to have the finest equipment of all types – whether it's airplanes, or ships or equipment in general – that we've ever had in the history of our country.

"With this major investment in the America's national defense, a core campaign promise of mine, we are at last reversing years of military cuts, and showing our determination and resolve to the entire world.  And believe me, the entire world is watching, and we have resolved like never, ever before."

Later on Tuesday, Secretary of Defense Jim Mattis confirmed the increase, saying: "These additional funds will accelerate the campaign to defeat ISIS, support ongoing operations in Afghanistan and address critical budget shortfalls.  Everything from new missiles and ammunition, to facility upgrades, to new aircraft are being funded by this bill."

Total world military expenditure rose to $1,686 billion in 2016, an increase of 0.4 percent in real terms from 2015, according to new figures from the Stockholm International Peace Research Institute (SIPRI). Military spending in North America saw its first annual increase since 2010, while spending in Western Europe grew for the second consecutive year.

Recent decreases in U.S. military expenditure have been attributed to the economic crisis and the withdrawal of U.S. troops from Afghanistan and Iraq. However, the U.S. still has the highest annual military expenditure in the world. U.S. military spending grew by 1.7 percent between 2015 and 2016 to $611 billion, reports SIPRI.

Military expenditure by China, which was the second largest spender in 2016, increased by 5.4 percent to $215 billion, a much lower rate of growth than in previous years. Russia increased its spending by 5.9 percent in 2016 to $69.2 billion, making it the third largest spender.

Saudi Arabia was the third largest spender in 2015 but dropped to fourth position in 2016. Spending by Saudi Arabia fell by 30 percent in 2016 to $63.7 billion, despite its continued involvement in regional wars. India's military expenditure grew by 8.5 percent in 2016 to $55.9 billion, making it the fifth largest spender.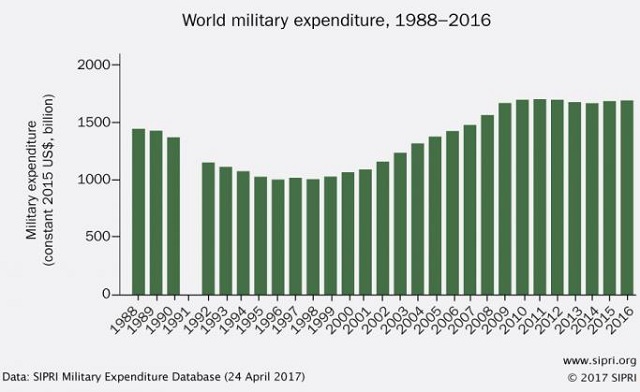 By MarEx