The U.S. Navy accepted delivery of the future USS Washington (SSN 787), the 14th submarine of the Virginia-class, on May 26.USS Washington is the fourth of eight Virginia-class Block III submarines and the seventh of the class to be delivered to the Navy by Huntington Ingalls Industries – Newport News Shipbuilding in Newport News, Virginia.

Construction began in September 2011, and USS Washington will be commissioned later this year in Norfolk, Virginia. The submarine's sponsor is Elisabeth Mabus, daughter of the 75th Secretary of the Navy Ray Mabus.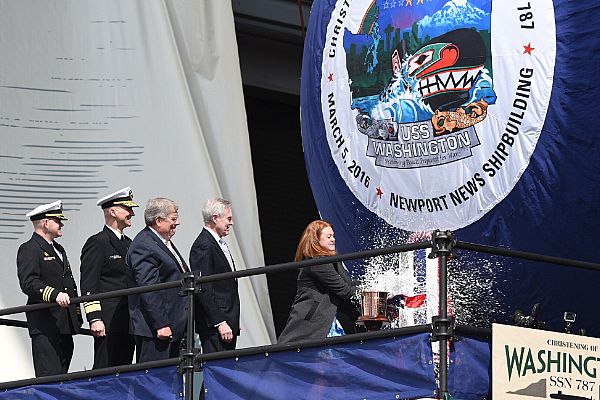 USS Washington successfully completed the Board of Inspection and Survey (INSURV) trials earlier this month receiving a score of 96 out of 100, the highest score to date on any new construction Virginia-class submarine. The INSURV board conducts acceptance trials of ships and service craft for the purpose of determining the quality of construction, compliance with specifications and Navy requirements.
USS Washington will be the third U.S. Navy ship, and first submarine, to be commissioned with a name honoring the State of Washington. The previous two ships were an armored cruiser, (ACR 11), which served under the name from 1905 to 1916, and a World War II battleship (BB 56), decommissioned in 1947.
Block III submarines feature a redesigned bow, which replaces 12 individual launch tubes with two large-diameter Virginia Payload Tubes, each capable of launching six Tomahawk cruise missiles. This, among other design changes, reduced the submarines' acquisition cost while maintaining their fighting capabilities.
Virginia-class submarines are built to operate in the world's littoral and deep waters while conducting anti-submarine warfare; anti-surface ship warfare; strike warfare; special operation forces support; intelligence, surveillance and reconnaissance; irregular warfare and mine warfare missions.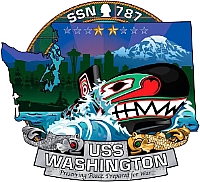 The ship's crest blend Washington State icons Mount Rainier, the Seattle skyline, evergreen trees; and silhouettes of the previous two WASHINGTONs. The central image is the submarine, surging forth from the waters of the Puget Sound, emblazoned with a paint scheme reminiscent of Native American art depictions of an orca whale, the state's official marine mammal.
Along the top of the state border, six hollow stars represent previous naval vessels named for George Washington and two solid gold stars representing the ships named for the state. At the bottom, submarine dolphins, one silver and one gold to represent the enlisted and officer warfare insignia.
They sit atop a block of battleship armor plating on which is printed the ship's name and motto, "Preserving Peace, Prepared for War." The motto is derived from a quote from the state's namesake, George Washington, "To be prepared for war is one of the most effective means of preserving peace."  Set behind the state is a ring adorned with the official state tartan, as adopted in 1991 for the state's centennial.
The color scheme of the tartan is a green background for the rich forests of "The Evergreen State," with perpendicular bands of contrasting colors symbolic of the features of the state: blue (for the lakes, rivers and ocean), white (for the snow-capped mountains), red (for the apple and cherry crops), yellow (for the wheat and grain crops), and black (for the eruption of Mount St. Helens). At the top center of the tartan ring is the ship's hull number, "SSN 787," split by the silhouette of George Washington.By MarEx